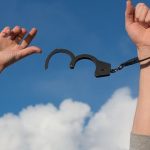 Watching the bad news about drugs, one could think the United States is circling the drain on its way to nodding oblivion. "The War on Drugs has been lost" is the theme, and the alternatives range from legalizing recreational marijuana,  following Oregon's lead to "defelonize" hard drugs like heroin and meth,  using LSD and other psychedelics to "treat" crime, PTSD and depression, implementing "harm reduction" programs which supply clean needles and a "safe space to shoot up" for addicts, switching addicts from street drugs to pharmaceuticals in something called "Medication Assisted Treatment," and so on.
One in six Americans is taking a psychiatric happy pill and more than eight million school kids are on psychiatric drugs to make them shut up and sit still. And 64,000 people died of drug overdoses in 2016 alone.
And in spite of skyrocketing profits in the $1 trillion pharmaceutical industry, drug abuse is hitting the economy hard. About 1 million people were out of the workforce in 2015 because of opioid addiction, and in order to hire new employees, some companies have been forced to stop drug testing. "See no evil, hear no evil, speak not the evil word of stigma."
According to the psychs, stigma is bad, because drug addiction is a brain disease not a moral failing. You catch it from your drug dealer, a friendly psychiatrist, or the people you smoke legal pot with who also have heroin, meth, Oxycodone and other fun stuff in their pockets.
So is the solution just giving up and legalizing everything?
One person who doesn't think so is Meghan Fialkoff, who with her father took on drug addiction in New York City. She seems to think something can be done about it, and her Foundation for a Drug-Free World took on the challenge of educating kids about drugs. Fialkoff started with after-school programs for elementary kids in the Bronx and the program's success began spreading.
"Just say no" isn't enough, kids need to know why, and Fialkoff and her group has reached some 12 million people in New York with a "Just Say Know" message. According to a Scientology Network video, her organization partners with the NYPD, school safety officers, community groups, rappers, musicians, Miss New York and others.
In a recent survey, 81 percent of teens said they had the opportunity to use illicit drugs and more than half tried them. Fialkoff is determined to provide an information vaccination before that happens.
Changing a culture of drug abuse and drug tolerance requires a sea change, a reality adjustment, an awakening to a world of possibilities that in some cases has been plunged into the darkness of drugs.
The link between a culture awash in drugs and the next generation is the dealer looking for his next customers: "Hey kid, wanna try something fun?"
What will your child say?